Academic Achievement
"This study … evaluate[s] the relationship between participating in a policy debate program and academic achievement in the Chicago Public School (CPS) district from 1997 to 2006 (N = 9145). …  we find that debaters were more likely to graduate, more likely to meet ACT … benchmarks, and had greater gains in cumulative grade point average (GPA) over the course of high school relative to comparable peers. This is the largest evaluation study of a debate program on achievement, and these findings suggest that debate programs may offer a means to extend learning time and promote engagement with scholastic materials in a manner that translates into academic performance." 
Mezuk, Briana, et al. "Impact of participating in a policy debate program on academic achievement: Evidence from the Chicago Urban Debate League." Educational Research and Reviews 6.9 (2011): 622.
"This study ... estimate[s] the …  effect for … preadolescent debate participation on a variety of academic and engagement outcomes among a 10-year longitudinal sample of Baltimore City Public School System students. The effect ...  was associated with increases in standardized test scores, a decreased likelihood of chronic absenteeism, and an increased likelihood of attending a selective entrance criteria high school. ... [T]his research constitutes the first quantitative study to examine these relationships among elementary and middle school students."
Shackelford, Daniel. "The BUDL Effect: Examining Academic Achievement and Engagement Outcomes of Preadolescent Baltimore Urban Debate League Participants." Educational Researcher 48.3 (2019): 145-157.
NSDA Website: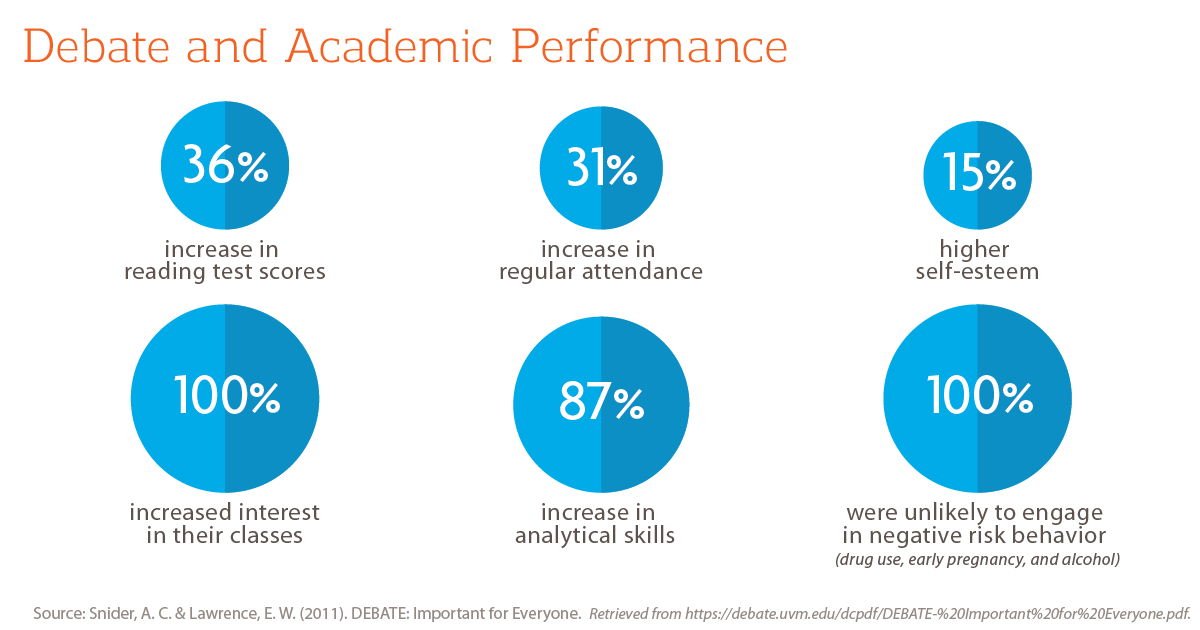 Accessibility
"In a recent study of students in Hong Kong, Sam Greenland (2010) … found that it was not true, as some had suggested, that male students learned debating better than females, but that both gained knowledge and skills equally. He also found that those students, who were more academically able, based on previous performance, did no better than their poorer performing comrades, indicating that debate is not just "for the smart" but can be done by almost all students. Finally, he discovered that abilities in speaking English (the debating activities all took place in English) did not influence the amount of debating expertise developed, and that those with less English speaking ability still performed very well in the debates that were scored. Thus, these findings may serve to answer some of the concerns that debating only helps some, or the gifted or the verbally able. The results in a large controlled study showed that debating helped everyone."
Snider, Alfred C. "Debate: Key to better academic achievement." (2011).
Career Paths
NSDA website: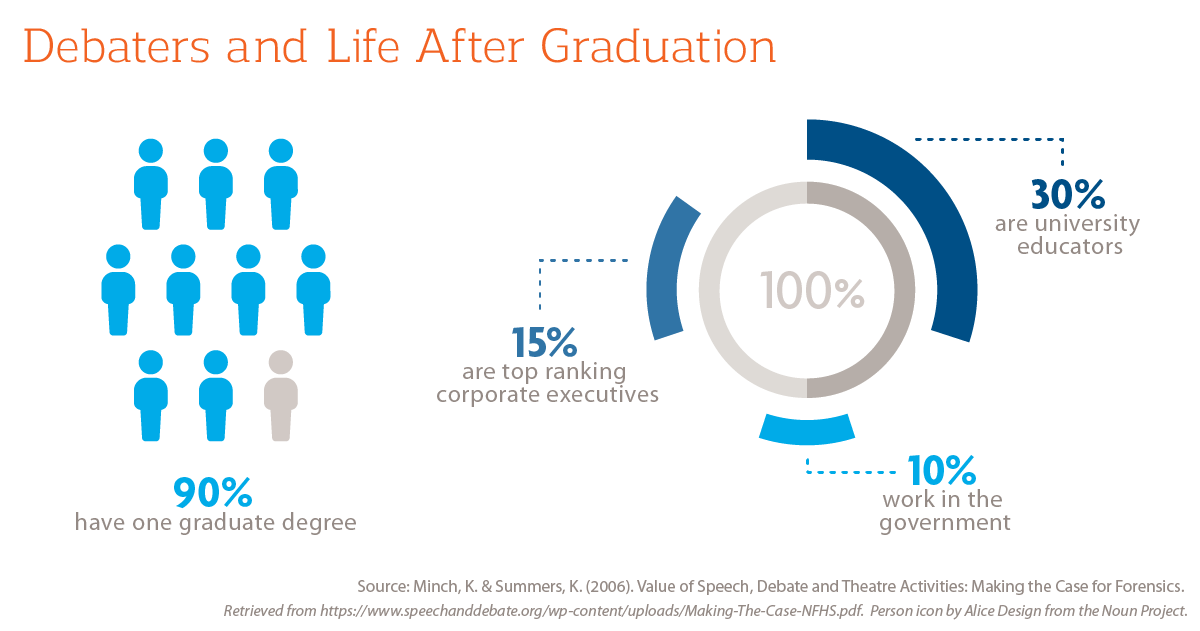 College Acceptance
Quarry Lane, measuring students who qualified to end of the year national championships ("Nationals"):
| Year | NSDA Nat / TOC Graduates1 | Colleges | Top 50 University % |
| --- | --- | --- | --- |
| 2018 | 2 | University of Chicago (IL), Duke (NC) | 100% |
| 2019 | 3 | NYU (NY), University of Illinois at Urbana-Champaign (IL), UCLA (CA) | 100% |
| 2020 | 2 | Claremont McKenna (CA), Duke (NC)  | 100%2 |
| 2021 | 5 |  American (DC), NYU (NY), UC Berkeley (CA) (x2), USF (CA)  | 60% |
1 NSDA Nat / TOC counts Quarry Lane graduates who qualified to either end of year national tournament during their high school career. 
2 Claremont McKenna is a top liberal arts college, but doesn't offer graduate programs so isn't a formal university and is thus ineligible from the Top 50 University ranking. Accordingly, it isn't included in the calculations.
Nationally, measuring students who have an NSDA membership (~1-2 tournament minimum):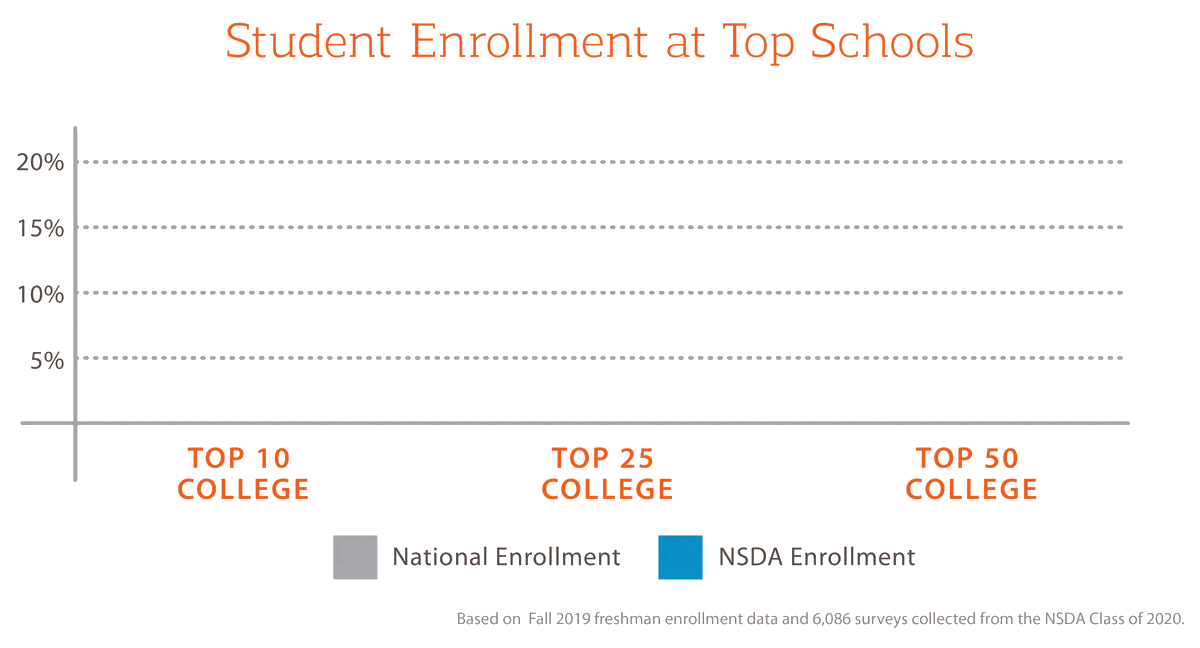 Civic Engagement
"This study examines ... an urban debate league (UDL) ...  in a large prospective study of students in the Chicago Public Schools (N = 12,197) over a nine-year period. School, social, and civic engagement were higher among debaters than non-debaters … Compared to students who had never debated, debaters reported significantly higher social conscience (p < .001), social competence (p < .001), civic commitment (p < .01), and importance of education (p < .001)."
Anderson, Susannah, and Briana Mezuk. "Positive youth development and participation in an urban debate league: Results from Chicago public schools, 1997-2007." The Journal of Negro Education 84.3 (2015): 362-378.
Critical Thinking
"The most important outcome of the present meta-analysis is that regardless of the specific measure used to assess critical thinking, the type of design employed, or the specific type of communication skill training taught, critical thinking improved as a result of training in communication skills. … Participation in forensics demonstrated the largest improvement in critical thinking scores whether considering longitudinal or cross-sectional designs."
Allen, Mike, et al. "A meta‐analysis of the impact of forensics and communication education on critical thinking." Communication Education 48.1 (1999): 18-30.
Exposure to Diverse Worldviews
"Urban Debate League (UDL) is an out-of-school time activity that is integrated into the middle and high schools of Minneapolis Public Schools. A total of 438 students participated across six high schools and 13 middle schools within the district during the 2014-15 school year. … Qualitative analysis implied that students enjoyed participating in debate and the opportunities it provides to expand their worldview and how they approach information while meeting new people and enhancing their academic skills. The challenge of competing in the tournaments also appealed to many students."
2014-15 Urban Debate League MPS Evaluation (2015)